Lean Project Practitioner Course
Lean Competency System – Level 1B/C
Open course, 5th-7th December 2023, Cardiff
Our 3-day Lean Project Practitioner Course is a practical course that teaches the fundamentals of Lean and how to use the approach to transform service operations. It is suitable for all individuals who are interested in discovering how to successfully implement Lean practices into organisations, and more particularly people from operations or developing improvement practitioners.
Through many practical exercises, our course introduces a different methodology to the traditional Lean manufacturing approach and focuses on how to implement Operational Excellence in either a back or front office environment.
The course also builds the required skills to initiate change such as business analysis, implementation design, coaching peers and selling and presenting the benefits of change.
The practical aspect of the course and the post-training project assessment (optional) highly benefit both the learners and their employers, with post-training projects typically delivering financial benefits in excess of £30,000 (based on averages 2012-2022).
Individuals will be able to follow a structured improvement approach to tackle larger problems

They will be able to coach colleagues in an improvement mindset

Organisations develop individuals to deliver continuous improvements projects




The Lean Project Practitioner Course is a 3-day course run in-house, exclusively for your staff.
We will be delighted to organise a training session for your organisation. Please contact us to discuss your requirements and preferred dates.
(Please note that a minimum of 6 to 14 participants is required to run the course.)
Requirements
Delegates must have been successfully accredited at Lean Competency System Level 1a OR be working in a suitable role, e.g. improvement related or frontline operations.
DAY 1
Lean Basics and Customer Focus
Course introductions and expectations

Lean history and context

Identifying value and waste

Customer Focus: Incorporating customer purpose, CTQ Trees and customer journey mapping

Process Mapping: Incorporating current state, future state and types of mapping
DAY 2
Design the future state process
Introduction to Day 2

Purposeful measures

Re-designing processes - building quality into processes through redesign

Capacity management: Incorporating skills management

Understanding change
DAY 3
Sustaining change and embedding continuous improvement
Introduction to Day 3

Visual Management and controls

Standard work

Root cause problem solving

Operational Excellence management system
Equip yourself with the fundamentals of Lean and how to use the approach to transform service operations.
Open course, 5th-7th December 2023, near Cardiff.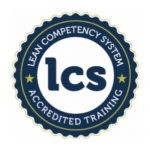 LCS - Lean Competency System Accreditation - Reinvigoration
This course is aligned to Cardiff University's Lean Competency System (LCS) at level 1b/c.
The LCS was created by Cardiff University's Lean Enterprise Research Centre and has set the standards for high quality Lean education for over a decade. It remains the leading academically recognised Lean qualification worldwide.
The LCS Framework has three categories and seven levels of competency covering the entire spectrum of Lean knowledge and applications; with each level focussing on a specific set of competencies. Reinvigoration is one of only a few that provides training at all levels. Please view the below LCS Roadmap for an overview of Reinvigoration's LCS Development Path, including pre-requisites, benefits and duration for each course.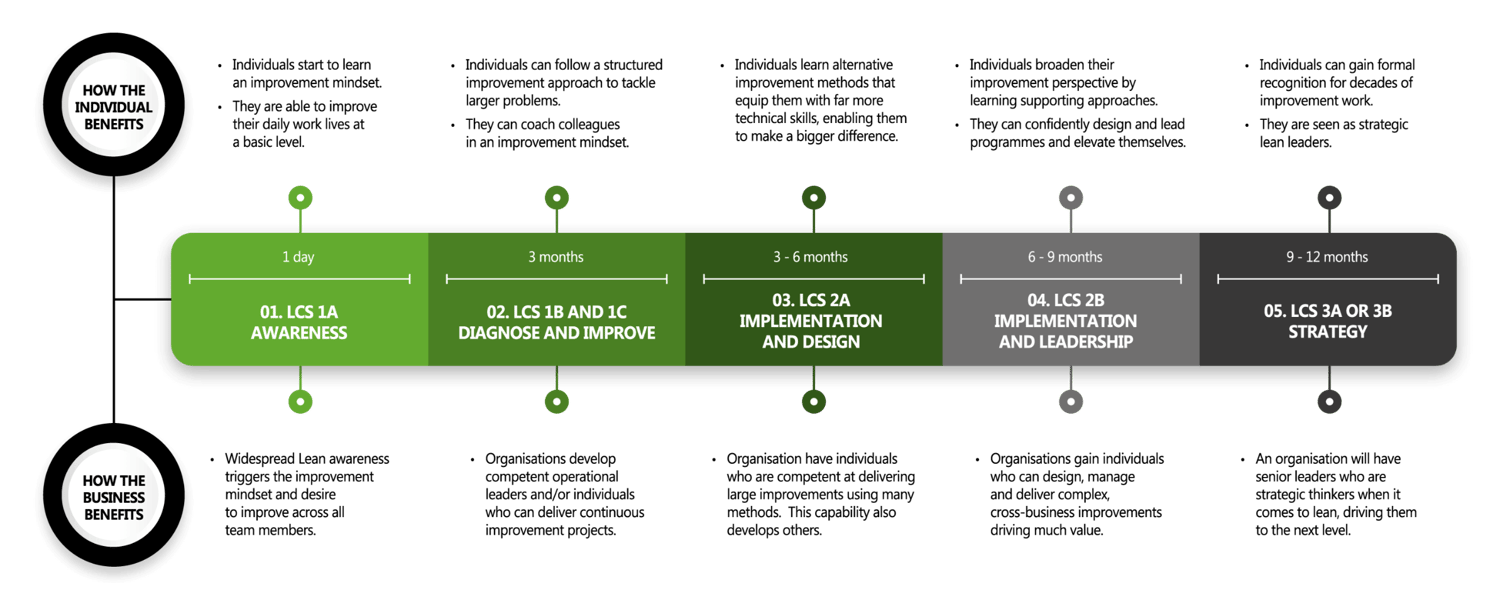 Face-to-Face course:
£1,495 + VAT per delegate.
LCS 1B & C accreditation fee (optional):
Option 1: £250 +VAT per delegate.
Learners self support the submission of their workbook (1 submission opportunity).
Option 2: £650 + VAT per delegate.
Learners are supported by a coach for up to 3 x one-two-one 30-minute remote sessions.
Open course, 5th-7th December 2023, near Cardiff, enquire now to find out more,
Reinvigoration offer a complete development pathway for Operational Excellence Professionals.
Find out more about our Lean Competency System courses: