Lean Project Online Practitioner Course
Lean Competency System – Level 1B/C
This course focusses on the fundamentals of Lean and aims at providing you with the knowledge you need to transform operations in a service or in a manufacturing environment using a Lean approach. The course also builds the required skills to initiate change such as;
business analysis
implementation design
coaching peers
selling and presenting the benefits of change
Individuals will be able to follow a structured improvement approach to tackle larger problems

They will be able to coach colleagues in an improvement mindset

Organisations develop individuals to deliver continuous improvements projects




This course is run online to remove the need for fixed training timeslot and training rooms. It facilitates the delivery of a unique programme across different areas of the same organisation, ensuring the training is delivered in a consistent, fast and efficient way. Learners are granted access for 6 months to enable them to learn just-in-time and take on each module as many times as they like.
Requirements
Delegates must have been successfully accredited at Lean Competency System Level 1A OR be working in a suitable role, e.g. improvement related or frontline operations.
LCS 1B/C Accreditation is optional. To be eligible for the accreditation, learners will need to complete a work-based project which can be delayed until they are able to resume work-as-usual. Individuals who are not yet officially accredited at LCS Level 1A will be given the free opportunity to complete our 60-minute online course to gain formal accreditation.
This online course is composed of 16 individual modules to help the learners fit the training in their busy schedule.
L C S 1 B
Project Set-Up

Understanding Customers

Mapping Techniques

Root Cause Problem Solving

Data Fundamentals

Waste Analysis

Demand and Capacity Analysis

Data Collection Techniques
L C S 1 C
Purposeful Measures
Process Design and Standard Operations
Workplace Organisation
Visual Management
Capacity and Demand Management
Planning Implementation
People, Teams and Sustainability
Benefits Tracking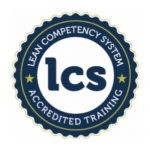 LCS - Lean Competency System Accreditation - Reinvigoration
This course is aligned to Cardiff University's Lean Competency System (LCS) at level 1b/c.
The LCS was created by Cardiff University's Lean Enterprise Research Centre and has set the standards for high quality Lean education for over a decade. It remains the leading academically recognised Lean qualification worldwide.
The LCS Framework has three categories and seven levels of competency covering the entire spectrum of Lean knowledge and applications; with each level focussing on a specific set of competencies. Reinvigoration is one of only a few that provides training at all levels. Please view the below LCS Roadmap for an overview of Reinvigoration's LCS Development Path, including pre-requisites, benefits and duration for each course.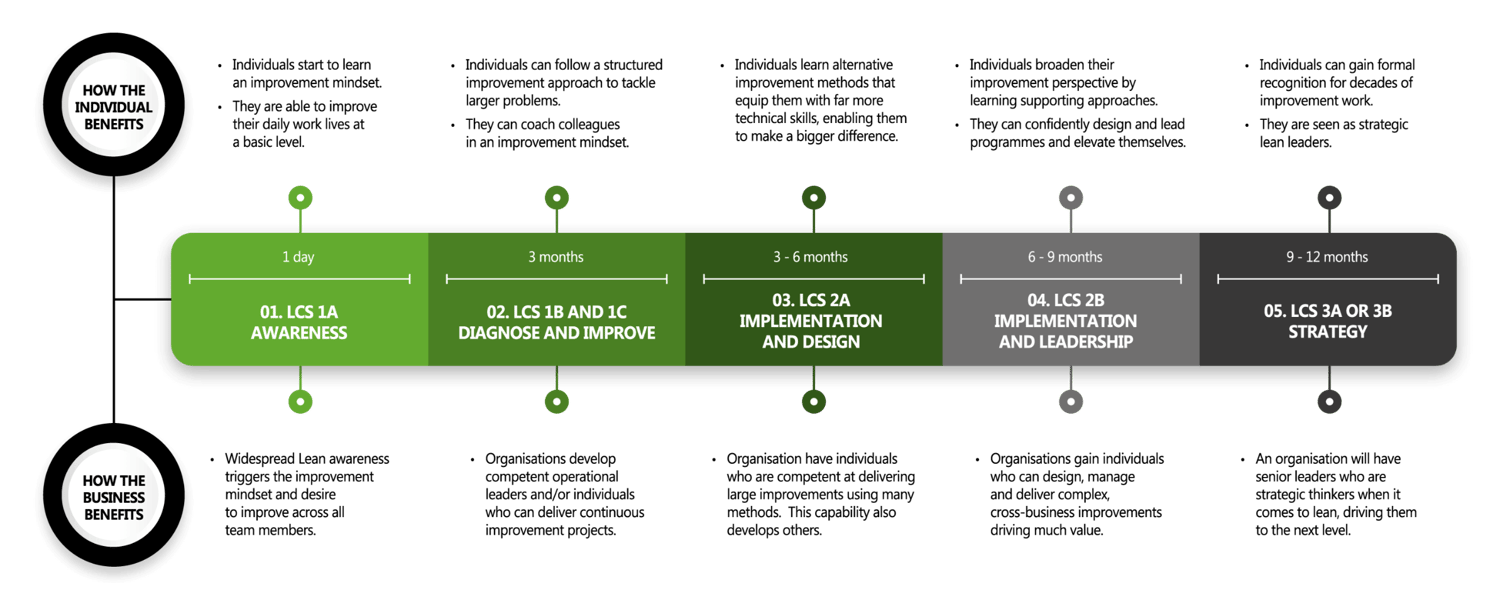 Accreditation is optional. Participants wishing to achieve accreditation will need to submit a workbook evidencing their project delivery.
Online course: £900
LCS accreditation level LCS 1B/C (optional): £795
Option 1: £250 +VAT per delegate.
All prices exclude VAT and refer to individual applications.
Please contact us for group application.
Reinvigoration offer a complete development pathway for Operational Excellence Professionals.
Find out more about our Lean Competency System courses: