Expert Mentoring Programme
Lean Competency System - Level 3
Our Expert Mentoring Programme is suitable for selected Senior Leaders / Executive members, as well as Heads of / Directors of Improvement, looking at gaining formal recognition for decades of improvement work and be seen as strategic Lean leaders.
Formal recognition for decades of improvement work
Being seen as a strategic lean leader
Organisations will gain senior leaders who are strategic thinkers when it comes to lean, driving them to the next level
Unlike the other LCS levels, our Level 3 Mentoring Programme doesn't include any formal training. Individuals are coached through the qualification (typically over a 12-month period) by one of our senior experts.

Delegates will enrol in either 3A or 3B. The difference between 3A and 3B lies in the scale, level of responsibility and scope of experience.
Requirements

Delegates must have been successfully accredited at full Lean Competency System Level 2 or be able to demonstrate an equivalent professional experience level.

Entry requirements at Level 3A or 3B will be assessed by Reinvigoration.

Unlike at the other LCS levels, all applicants have to be formally accepted onto the programme by the LCS, the first stage of which is completing an application form.

Once accepted, delegates are coached for up to 20 hours through the certification process
over an agreed period of time (typically over a 12-month period) by one of our senior experts.
LEVEL 3 KNOWLEDGE
The Level 3 practitioner shall know and understand:
Strategy development and policy deployment techniques
Design and deployment of effective and relevant performance measures
Leadership skills for effective Lean transformation (e.g. change management, communication, coaching, mentoring, motivating, etc)
Supply chain management
Advanced Lean systems knowledge and techniques
Sustainable change and continuous improvement
Project direction, implementation and control
Complementary philosophies, approaches and thinkers.


LEVEL 3 PRACTICE
The Level 3 practitioner shall be able to:
Implement at significant scales and in a range of business environments
Lead a business unit/organisation's lean transformation
Coach and mentor colleagues and practitioners
Create sustainable lean strategies and implementation plans, aligned to organisational
strategy
Apply lean in a range of core business processes (eg order fulfilment, new product development, sales acquisition, supply chain, etc)


Implement and deploy a lean strategy in an organisation to achieve quality/cost/delivery benefits

Devise and apply effective and relevant value stream and supply chain performance measures.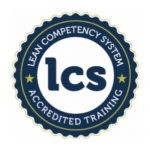 LCS - Lean Competency System Accreditation - Reinvigoration

This course is aligned to Cardiff University's Lean Competency System (LCS) at Level 3.

The LCS was created by Cardiff University's Lean Enterprise Research Centre and has set the standards for high quality Lean education for over a decade. It remains the leading academically recognised Lean qualification worldwide.

The LCS Framework has three categories and seven levels of competency covering the entire spectrum of Lean knowledge and applications; with each level focussing on a specific set of competencies. Reinvigoration is one of only a few that provides training at all levels. Please view the below LCS Roadmap for an overview of Reinvigoration's LCS Development Path, including pre-requisites, benefits and duration for each course.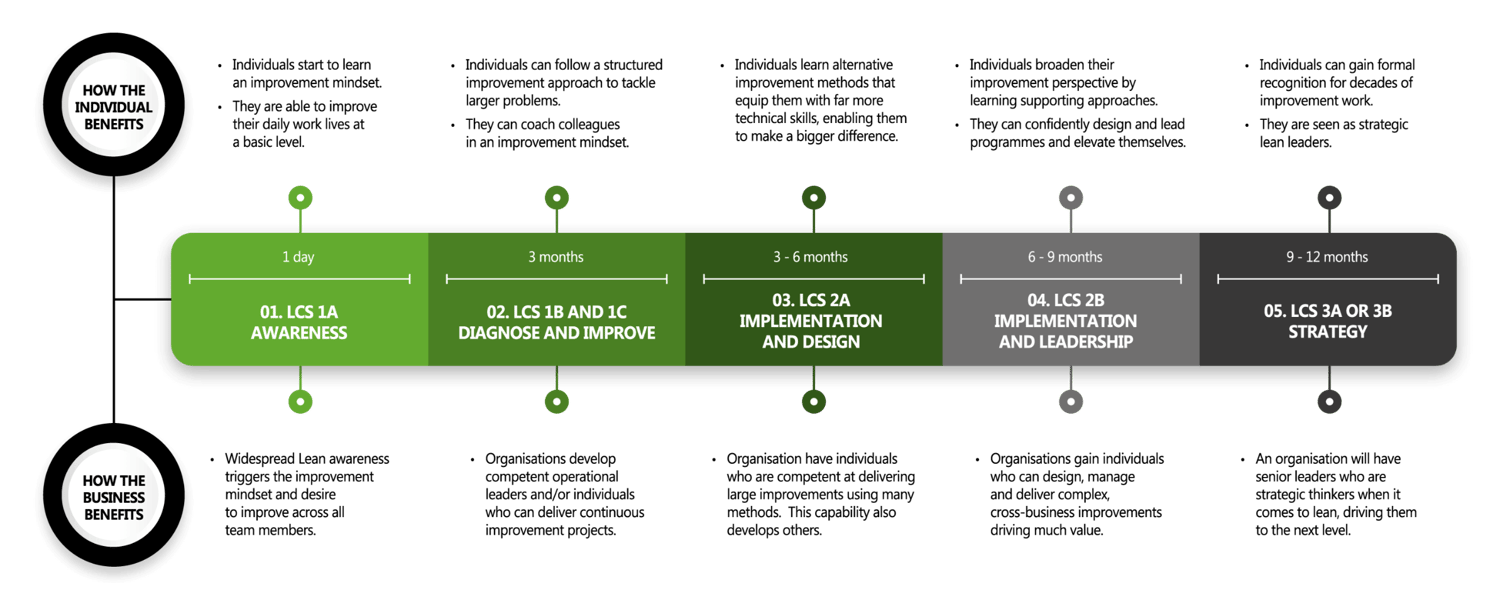 Submit 3 case studies of 2,500 words each demonstrating their advanced/strategic Lean knowledge
Submit a 4,000-word essay that allows them to articulate how Lean can/should evolve and determine how forward-thinking they are.
Present to an LCS panel comprising of 3-5 Lean experts to convince them of their credentials as a senior Lean leader and innovative thinker.
Delegates will benefit from the support of a Reinvigoration senior coach for up to 20 hours.
Face-to-Face course:
£4,950 + VAT per delegate, including accreditation.
Please get in touch with us to discuss your requirements.
Reinvigoration offer a complete development pathway for Operational Excellence Professionals.
Find out more about our Lean Competency System courses: