Lean Service Awareness Online Course
Lean Competency System - Level 1A
Lean Service Awareness is a practical 60-minute online course suitable for any professional seeking an introduction to Lean thinking.
Lean is undoubtedly one of the most effective ways to improve service whilst simultaneously reducing costs. This course will give you an insight into why it is so popular and will leave you with ideas that you can take back to the workplace.
Professionals completing this course will gain a solid overview of the key principles of Lean and how/when these translate into the service sector.
Individuals will start to learn an improvement mindset.

They will be able to improve their daily work lives at a basic level.

Widespread lean awareness triggers the improvement mindset and desire to improve across all team members.




This online course is based around many interactive exercises which allow delegates to put the theory they've learned into practice.
The course is completed with the sharing of case studies from different service-sector improvement projects, giving delegates real, relatable examples of Lean transformation.
No previous Lean knowledge or experience required.
Describe the classic 5 Lean principles.

Identify the recognised history of Lean.

Give examples of the 7 classic wastes.

Apply basic Lean improvement techniques to a service environment.



Lean improvement techniques to a service environment include:
Diagnose process problems.

Make improvements and test their outcomes.

Understand the basic differences between service and manufacturing.

Identify service wastes and understand why these are different to the classic 7 wastes.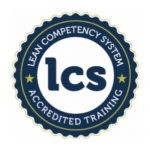 LCS - Lean Competency System Accreditation - Reinvigoration
This course is aligned to Cardiff University's Lean Competency System (LCS) at level 1a.
The LCS was created by Cardiff University's Lean Enterprise Research Centre and has set the standards for high quality Lean education for over a decade. It remains the leading academically recognised Lean qualification worldwide.
The LCS Framework has three categories and seven levels of competency covering the entire spectrum of Lean knowledge and applications; with each level focussing on a specific set of competencies. Reinvigoration is one of only a few that provides training at all levels. Please view the below LCS Roadmap for an overview of Reinvigoration's LCS Development Path, including pre-requisites, benefits and duration for each course.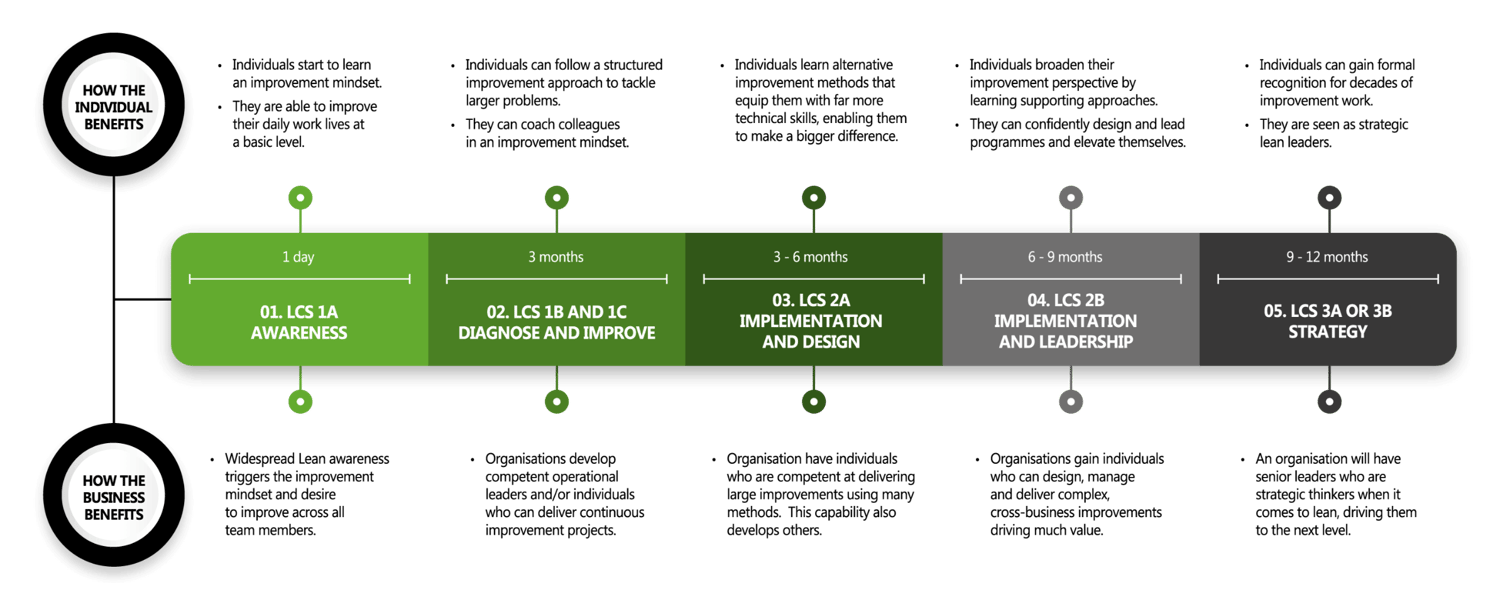 To achieve accreditation, at the end of the course learners sit a timed multiple choice exam containing 30 questions which are pulled randomly from a large question bank.
Feedback is provided immediately and if the pass mark of 65% is met learners can immediately download their formal.
£95 excl. VAT per learner (£114 incl. VAT), including accreditation.
1 login accessible per online transaction.
Bulk Pricing, Licensing & Personalisation
Personalisation packages, bulk pricing and licensing options available.
Get in touch to discuss group options.
Reinvigoration offer a complete development pathway for Operational Excellence Professionals.
Find out more about our Lean Competency System courses: