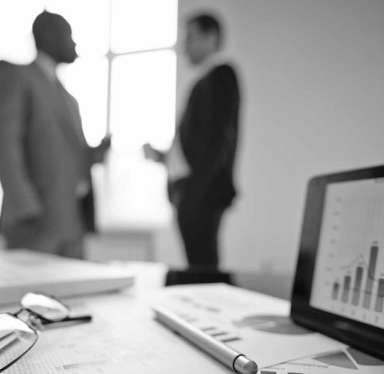 Breaking Down Silos for Holistic Transformation
To achieve operational excellence, financial services companies must break down silos and foster collaboration across departments and teams. Adopting an organisation-wide approach ensures that every area of the business is aligned towards a common goal: operations efficiency and effectiveness. Siloed efforts may lead to isolated operations improvements, but they often fail to deliver sustainable change that impacts the entire organisation.
The Key Elements of Organisation-Wide Operations Transformation


Vision and strategy: The journey towards organisation-wide operations transformation starts with a clear vision and well-defined strategy. You need to outline your goals, identify pain points, and create a roadmap that guides your teams towards operational excellence.
Leadership and buy-in: Transforming an entire organisation requires strong leadership and buy-in from all levels. Your executives and managers must be active champions of the transformation, inspiring employees to embrace change and align their efforts towards the common goal.
Data-driven decision making: Data is the lifeblood of operational transformation. You need to leverage data analytics and business intelligence across your entire organisation to make informed, data-driven decisions that drive efficiency and effectiveness.
Continuous improvement culture: Creating a culture of continuous improvement is essential for organisation-wide transformation. In practice, you need to actively encourage employees to seek opportunities for improvement, embrace innovation, and challenge the status quo.
Technology enablement: Embracing technology is paramount for modern financial services companies. Automation, AI, and other cutting-edge technologies can be adopted across multiple departments to streamline processes, enhance customer experiences, and drive operational efficiencies.


The Benefits of Organisation-Wide Operations Transformation

In the fiercely competitive financial services industry, organisation-wide operations transformation is a powerful tool that sets apart the winners from the rest. By breaking down silos, fostering collaboration, and embracing technology, you can achieve operational excellence, deliver exceptional customer experiences, and thrive in the face of constant change.
Enhanced customer experience: Organisation-wide transformation enables you to deliver a consistent and superior customer experience across all touchpoints.
Optimised processes: By eliminating silos and streamlining processes, you can achieve greater efficiency and reduced operational costs.
Risk mitigation and compliance: A holistic approach to operations transformation helps you better manage risks and ensure compliance with regulatory requirements.
Agility and adaptability: Organisation-wide transformation ensures your infrastructure and teams are more agile and adaptable, ensuring you're able to respond swiftly to market changes and seize opportunities.
Employee engagement and retention: A culture of continuous improvement and transformation fosters employee engagement and enhances talent retention.

The journey towards organisation-wide transformation may be challenging, but the rewards are well worth the effort. As the industry continues to evolve, those who embrace this strategic approach will be best positioned to lead the way into a successful and prosperous future.
Introducing OpX: Your Path to Operational Excellence
OpX is a purpose-built platform designed to be the cornerstone of organisation-wide operational transformation. OpX offers a comprehensive suite of tools and methodologies that enable financial institutions to drive quick wins while setting the stage for sustainable, long-term change. With OpX, you can significantly reduce operational costs while safeguarding service levels – ensuring long-term success and resilience.
To find out how OpX can transform operations in your business, book a demo today to start your journey towards operational excellence.
Discover the five major operational challenges facing financial services businesses today