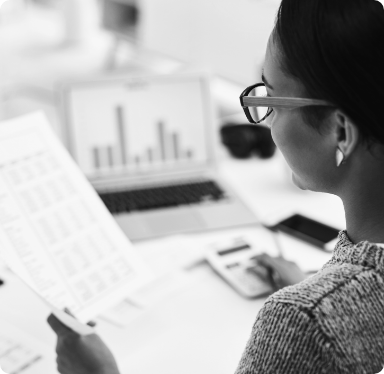 The Different Types of Demand Analysis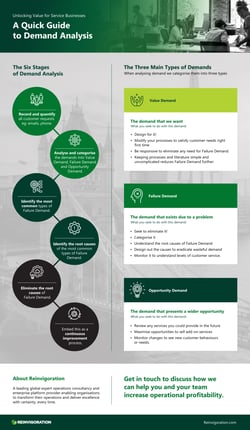 Value Demand is requests from customers for products or services. It is the type of demand we want. An increase in Value Demand, signifies growth for an organisation. In public services, Value Demand relates to customer requests that link to the core purpose of the service.

For example:
• A customer ordering a meal in a restaurant
• A customer ordering a product or service online
• A customer utilising a public service that they are entitled to.
Failure Demand exists due to problems, inaccuracy or confusion for the customer. This consumes the organisation's resources to resolve the issues.

For example:
• A customer sending their cold food back to a kitchen in a restaurant
• A customer ringing up a call centre to chase their online order
• A customer complaining that a public service has not happened as expected.

Opportunity Demand is when a customer requests a product or service that isn't currently offered. These can sometimes represent new opportunities for the organisation.

For example:
• A customer requests a meal that is not currently on the menu
• A customer searching for a product on the website that is not currently supplied
• A customer requesting a public service which is not currently offered.


The Six Stages of Demand Analysis
1. Record and quantify
You should start demand analysis with understanding and identifying all the different types of requests that exist from internal and external customers. This means that you need to collect data to establish the demand types and the frequency of them. An example of a customer request could be an email, a telephone call, an order etc.

2. Analyse and categorise
Once you have the data of the demand types and their frequency, you can organise them into categories. For each category it is now important to determine whether they are Value Demand, Failure Demand or Opportunity Demand.

3. Identify the most common
It is important to identify the most common types of Failure Demand as this will help you identify the key problem areas in your organisation. Failure Demand is unnecessary work that employees are performing and requests that customers do not wish to make.

4. Identify the root causes
Next you need to determine the root causes of the Failure Demand so that you can identify what changes are necessary and find effective solutions.

5. Eliminate the root causes
In order to eliminate the root causes of Failure Demand you will need to work with the business to create and implement solutions that mitigate the root causes. You will need to engage with stakeholders across the organisation and make process improvements within the relevant teams where the problems exist.

6. Continuous improvement
Demand Analysis should become part of the company's business-as-usual. There should be metrics which track the volumes of demand, and this should be treated as a focal point to trigger improvements for the future.
---