How can Operational Excellence support your organisation?
Alignment of organisational strategy to team and individual performance – Operational Excellence enables organisations to create a clear thread between strategic goals and the objectives of teams and individuals. High performing teams have a clear understanding of their performance and the organisations goals and objectives. They also understand how to identify barriers to achieving these objectives, working together to improve performance.
Ask yourself "Does my team know what they need to do to deliver the operational strategy?"
Identifying how the team delivers value to their customer – Operational Excellence will enable teams to understand their purpose and how it contributes to value for the customer. This is integral to ensure individuals and teams understand their purpose to contributing to customer requirements and develops the need to drive a culture of continuous improvement.
Ask yourself "Do we understand what the customer values and how we can deliver this?"
Empowering your people to make decisions – Operational Excellence will enable your teams to understand performance, measure what is important and drive team-based problem solving to improve the way they work.
Ask yourself "Do we have the capability to identify and solve problems, and understand the benefits of the improvements?"
What are the core foundations of Operational Excellence?
Operational Excellence is a collection of ten core disciplines that, when combined and deployed within any operations team, deliver a significant enhancement to efficiency, quality and speed​. For effective deployment, coaching and supporting teams is integral. This needs to be undertaken in a hands-on manner which provides them with 'lightbulb' moments of awareness.​
The techniques are categorised into three aspects:​
1. Performance Measurement
Understanding the needs of the customer and developing measures that can be tracked to show that the customer purpose is being met​
2. Performance Management
Optimising the team through the use of visible performance boards, effective huddles, skills management, and capacity optimisation​
3. Performance Improvement
Upskilling all teams to identify performance and process issues, and resolve problems for themselves using tried-and-tested techniques.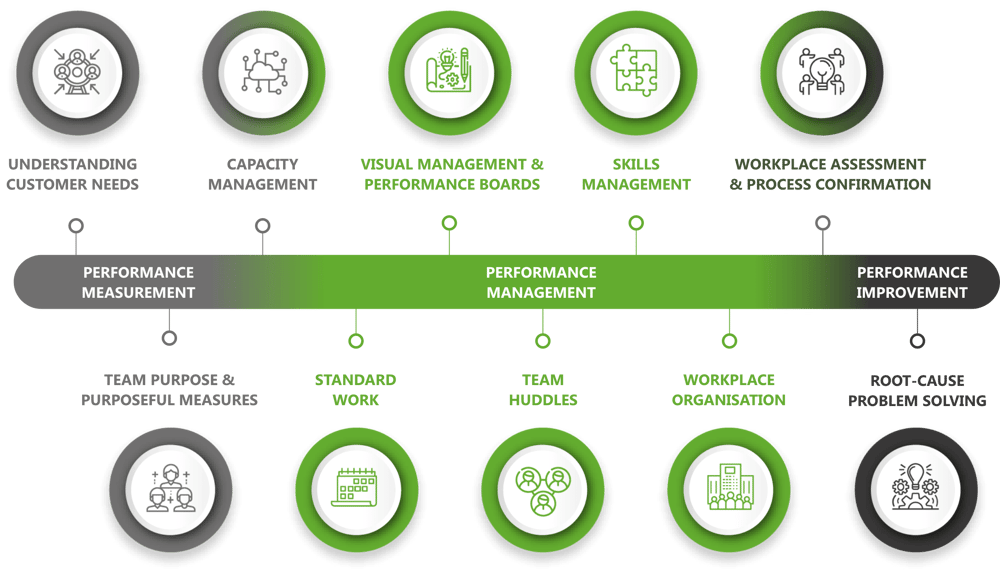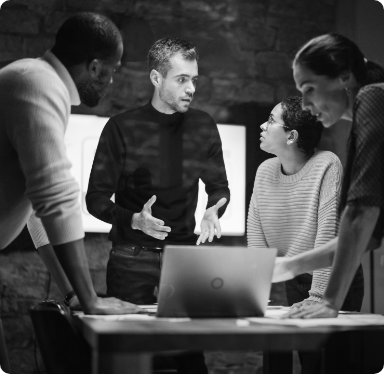 How is Operational Excellence measured?
Operational Excellence typically achieves a 15 percent+ efficiency improvement​.
Operational Excellence can enable a 15 percent+ efficiency saving through optimised ways of working and continuous improvement. This is tracked through clear and transparent mechanisms to measure and quantify the benefit of, operational excellence application. We use tangible metrics to define the benefits, which can include the following:
Efficiency

Customer Satisfaction

Employee Engagement

Quality

Cost Reduction

Growth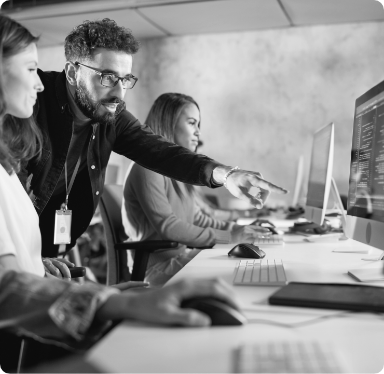 Operational Excellence is also measured using a comprehensive maturity assessment which is undertaken both pre-and post-deployment. The measures are focussed across the ten core principles and define the maturity of their application.
From initial engagement with organisations, we utilise our unique Operational Maturity Assessment to assess the current maturity levels across five key areas:
Operations Strategy

Leadership

Organisational Design

Operations Management

Capability
---

Our Operations Maturity Assessment Tool enables you to gain an instant view of your operations capability, understand clear gaps, and benchmark your organisation against others in your industry.
Take part in our free online assessment today to understand the maturity of your operations:
Discover how Reinvigoration's range of services, our Expert Operations Consulting, Innovative Learning Solutions, and the Virtual Transformation & Learning Platform (VTLP) help you implement, sustain, and future-proof operational excellence.